Successful approaches to house led regeneration – SURF
11 April 2023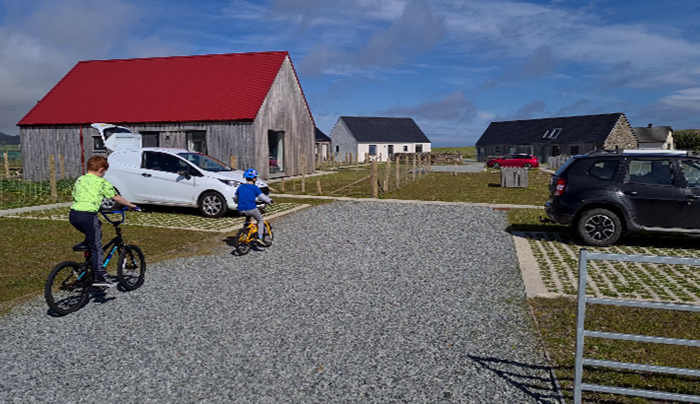 SURF and the Scottish Government work together to identify and highlight excellence and innovation in initiatives that address social and economic challenges in disadvantaged communities through the annual SURF Awards for Best Practice in Community Regeneration.
This free half-day SURF Awards workshop event in Wheatley House, Glasgow on 4th May provides an opportunity to explore successful approaches to housing led regeneration initiatives providing wider community outcomes. The winning and highly commended projects from the 'Housing and Regeneration' category highlighted in the 2022 SURF Awards process will provide comment on their experiences and transferable learning.
Workshop guests will firstly hear from a project representative from the 'Housing and Regeneration' category winner Taighean a' Chaiseil. Situated on the Isle of Skye, this £1.6million regeneration  project aimed to address the housing, health and business needs of Staffin, delivering six new family homes.
Guests will then hear from the second of the 'Housing and Regeneration' highly commended projects 21 Main Street project in Wigtown. The project, delivered by South of Scotland Community Housing (SOSCH), redeveloped a former bank building into two affordable homes, a community‐run bunkhouse and community garden and a growing space.
This will be followed by input from LAR Housing Trust who will give details of their reuse housing projects.
The event will close with Lintel Trust and the Scottish Housing Network providing detail on their current priorities towards supporting the wider housing sector. It will then open up to a discussion on National Policy.
The SURF Awards 'Housing and Regeneration' judging panel team – comprising representatives of Smith Scott Mullan, Scottish Government More Homes Division, Lintel Trust and the Scottish Land Commission – were particularly impressed by the level of community involvement in all three shortlisted developments.
Programme
10:00am   Registration and networking
10:30am   Welcome and Introduction: Euan Leitch, Chief Executive, SURF
10:35am   Presentation, Taighean a' Chaiseil: Hugh Ross, Staffin Community Trust
10:50am   Presentation, 21 Main Street, Wigtown: Mike Staples, SOSCH
11.00am   Questions and Comments with project representatives
11.15am   Presentation, LAR Housing Trust: TBC, LAR Housing Trust
11:25am   Presentation, Lintel Trust: Kate Christie, Lintel Trust
11:35am   Presentation, Scottish Housing Network: Trudi Tokarczyk, Scottish Housing Network
11:45am   Open Discussion on National Policy
12:05pm   Summary, Thanks and What's Next: Euan Leitch and Emma Scott, Events, Information & Communications Manager, SURF
12:15pm   Close and Networking Lunch
Please visit www.surf.scot  for more information on the SURF Awards and the outcomes of the 2022 process.