Scotland's Housing Network Annual Gathering and AGM
7 November 2023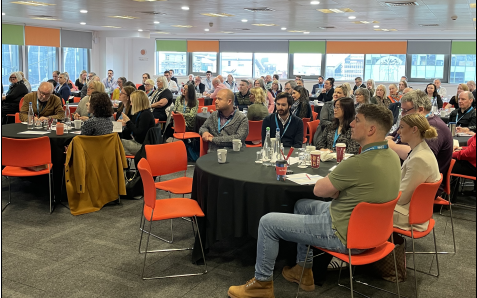 Scotland's Housing Network held their annual gathering and AGM on the 2nd November 2023 at the Studio in Glasgow.  It was great to see so many colleagues come together to explore the ever increasing number of competing priorities facing the Scottish housing sector, share best practice and network.
The keynote speaker was an eagerly anticipated update from the Minister for Housing Paul McLennan MSP who provided insight into the Housing Bill 2023 and the future priorities of the housing sector in Scotland, with some good discussion and insightful Q&A following.
The event also saw speakers from organisations such as Scottish Veterans Residences, Ore Valley Housing Association, Glasgow Caledonian University and Glasgow West of Scoltand Forum.
Topics debated include supporting veterans,  Human Rights and Housing, delivering sustainable communities, and balancing rents with investment in housing supply.   We also had an excellent panel discussion focussinng on the competing priorities in the sector and ended the day with a discussion with the Scottish Housing Regulator.
Andrea Finkel-Gates, Chief Executive Officer at SHN, said: "It has been a great opportunity to come together with our members and share what works and discuss the challenges that we face as a sector. Networking and practice exchange is at the heart of what we do at Scotland's Housing Network."